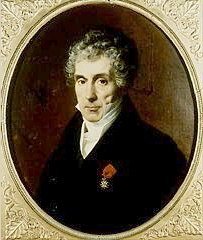 LUIGI CARLO CHERUBINI
(Firenze 1760 - Parigi 1842)

By the age of eighteen, Cherubini had over thirty sacred works performed. In 1778 he left Florence to study with Sarti. He composed some intermezzos and a successful opera seria, Armida abbandonata (1782), then wrote serious and comic operas for London before going to France. His Démophon (1788, libretto by Marmontel after Metastasio) was not a major success (an opera on this subject by Vogel did hardly better), But he remained in France and with the revolution turned to the theatres of opéra comique. Lodoïska (Feydeau theatre, 1791) is an archetypal 'rescue opera' and won general approval despite the rivalry of an opera with the same name by Kreutzer. Cherubini produced a romantic opera with a Swiss setting, Elisa (1794); and more surprisingly a grand opéra comique on a Greek myth, Médée, the work by which he is chiefly remembered today (the modern recordings, however, use recitatives by Franz Lachner and are sung in Italian). His last operatic masterpiece, which greatly influenced Beethoven, was Les deux journées (1800), also known as The Water Carrier. This had a considerable success in Vienna, where the Kärntnerthortheater commissioned Faniska (1806). His last opera, Ali Baba, was premiered as late as 1833 (Paris Opéra). Cherubini was never prolific, unlike such contemporaries as Boieldieu and Auber, and his greatest period was up to 1800; he did not get on well with Napoleon. Under the restored ancien régime (from 1815) he won favour as a composer of church music, and also composed symphonies and quartets.