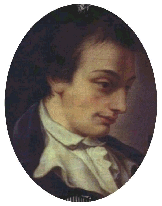 Pietro Alessandro Guglielmi
(1728-1804)

Italian composer, member of a large musical family. He studied in Naples with Durante and developed into one of the most prolific opera composers of a prolific age. His early works are mainly comedies. He spent five years in London from 1767, where he worked with J.C. Bach and according to the traditions of the London theatre directed pasticcio operas as much as new ones. He returned to Italy and renewed his successful career, combining it later in life with church appointments.
Never quite in the front rank compared to Piccinni, Paisiello or Cimarosa, he seems also to have avoided their problems and could stand as a representative of an era through his concentration on comedy, his easy, pure, and fluent melodic and formal style, and the permeation of his music by changes in style which he himself did not initiate. His son PIETRO CARLO GUGLIELMI (1772-1817), also known as Guglielmini, was also an opera composer and another son Giacomo made a career as an operatic tenor.